Monthly Archives: November 2006
I'm totally lame. Literally. I torqued my ankle a few days ago so I'm now couch-bound and glued to Cinemax HD watching the Star Wars marathon since they're playing all six episodes back to back. I had grand plans to start installing the composite floor in the loft above the Trunkmonkey Racing garage but it doesn't look like that will get started until tomorrow.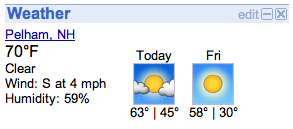 70°F. In Pelham, NH. On November 9th. With a forecast high of 63°F. Welcome to New England, people.